Austrian Airlines using Donecle's automated inspection drone
Toulouse, France, September 6th, 2019. Donecle announced it has signed on Austrian Airlines, member of the Lufthansa Group, for its automated drone inspection solution. Donecle is excited to partner with Austrian Airlines to help the airline optimize their maintenance process by reducing time of aircraft inspection while increasing reliability, safety and traceability of airframe checks.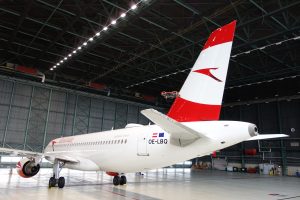 Donecle delivered its solution to Austrian which will use it for aircraft visual inspections during line maintenance as well as for unscheduled events.
Donecle not only provides an automated drone which scans the complete external surface of the aircraft, but also delivers analysis software which assists the inspector to visualize and detect defects on the images, evaluate paint quality or check regulatory markings. All images are stored on a secure cloud platform to build a digital history of the aircraft and improve traceability over time, contributing to a paperless process.
Josselin Bequet, CEO and co-founder of Donecle says: "We are very happy to provide our solution to Austrian and to collaborate on extended features and capabilities. This validates the relevance of our solution and the need from the market to integrate new innovative solutions in their maintenance process to optimize their daily activities."
A technical partnership was also agreed to work on the lightning strike use case. With the current traditional manual process, inspecting an aircraft after a lightning takes several hours to check for potential damage. With Donecle's solution, Austrian expects to considerably reduce this long inspection time down to 2 hours, having a significant impact on AOG costs and aircraft availability to better serve its passengers.
The solution will be used to inspect Austrian Airlines' Airbus narrowbody fleet and both companies are also working to extend capabilities to Embraer E-Jet inspections as part of this technical collaboration.
Michael Kaye, Vice President Austrian Airlines Technical Operations, on the advantages of the new drone technology: "Our aspiration at Austrian Technik is to stay up-to-date when it comes to new developments. Innovative systems such as these drones perfectly support us to further enhance our stability in flight operations and avoid flight cancellations".
See the the drone in action in Austrian Airlines' facilities here: https://www.donecle.com/portfolio/austrian-airlines-using-donecles-drone-to-inspect-its-aircraft-fleet/
Donecle now counts several in-service drones with airlines and MROs over 3 different continents.
About Donecle
Donecle is a French company located in Labege, France, founded in 2015 and with strong expertise in aircraft maintenance processes, drone robotics, automation and computer vision deep learning. Donecle has designed a patented solution to perform automatic aircraft inspections. Our technology combines 100% automated UAVs with advanced image analysis algorithms to inspect aircraft quickly and reliably. Donecle is committed to deliver high-standard services to customers through constant improvement and dedicated customer focus team. Our clients include airlines, MROs, aircraft OEMs and military operators around the World.