Improve the efficiency of your aircraft inspections
This is the first drone that started taking off at the end of 2018. Operating for several years with customers worldwide, it is designed for visual inspections.
As all of our drones, it is fully automated, with no pilot required and it is used for:
GVI
Lightning strike
Placard & paint checks
etc…
Certification:
This drone is listed in the Airbus AMM for A320 family for lightning strike inspection
Task: 05-51-18-200-001-A-02
Download our brochure
Iris is the new family of UAVs launched in Donecle 2022, composed of 2 new autonomous platforms. They are designed to perform visual and 3D inspections of aircraft, as well as inspections of aircraft components. This family is deployed for civil, military and business jet aircraft.
The IRIS GVI drone is designed for automated visual inspection.
With its high-resolution camera enabeling 16px/mm2, the drone performs complete inspections of the outer skin of an aircraft, as well as specific parts.
Iris GVI flies in various applications:
Scheduled inspections (A, B, C checks, corrosion, deterioration…)
Unscheduled inspections (lightning strike, bird strike, hard impact…)
Component (engine, landing gears..)
Paint & placard
Read more about use cases
Try this drone
Donecle and 8tree have joined their expertise and capabilities to offer a solution outside the box. This innovation is about combining an automated drone and 8tree's dentCHECK® 3D sensor. This unique technology can detect and measure dents and buckles on the surface of the aircraft 50 times faster than manual methods.
dentCHECK®, the industry's standard for digitalized dent mapping, slashes dent-mapping/ reporting times by 90%* and is 25x more consistent in measuring depth.
*compared to traditional methods
The Iris dentCHECK drone is flying around aircraft specifics zone:
Flaps, slats
Radome
Doors
Fuselage
Etc…
During its autonomous flight, the 3D sensor detects and measures dents down to 0.1mm depth accuracy.
Download the brochure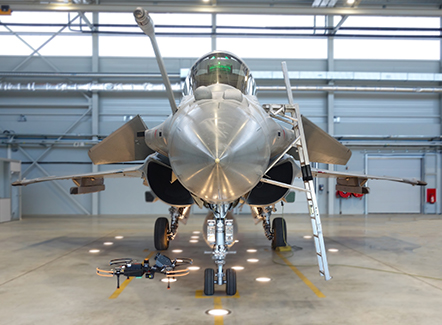 Do you want to streamline your operations with drone-based automated 3D dent-mapping ?
Developed and validated in the military sector on the Rafale aircraft, we are starting a pilot program in civil aviation. This pilot program is open to all operators in Europe willing to test the automated inspection for dent detection and measurement.
Read more about development in military aviation
Join our pilot program
Argos is a drone able of carrying out automated inspections for aircraft components: landing gear, engines… This solution works without prior programming or pilot intervention.
Thank to a patented positisioning system nammed DLT (Dronetix Light Track) localised around the inspected component, the drone know his exact position avoiding obstacles and acquire high resolution picture of the part.
This drone is developped by Dronétix, a subsidiary of Donecle.
Download the brochure
Dronétix website