Dallas, TX, United States, April 28, 2022
Donecle announced today that LOTAMS had selected its drone-based solution to enhance their maintenance operations. The leading MRO has signed a multi-year contract with Donecle covering the deployment and support of an automated solution to optimize visual inspections.
LOTAMS is an independent Polish MRO based in Warsaw, with extended capabilities for line and base maintenance inspections, as well as wide range of workshops. As part of their digital transformation, they approached Donecle for their automated aircraft inspection solution.
Jakub Jasinski, Sales Director at LOTAMS, says: "We had the opportunity to see the Donecle drone in operation and were impressed by the solution capabilities. As one of CEE's most dynamically developed MROs, it definitely fits our innovation priorities."
Donecle is providing a complete solution to LOTAMS, with a drone that can fully scan the external aircraft surface and a powerful software suite that assists the inspector to detect damages and create exhaustive inspection reports. The drone deployment will cover multiple platforms such as Boeing 737NG, 737MAX, Embraer 170, 190 and 195.
In addition to using the platform on all narrow-body aircraft, LOTAMS will participate in the development and validation of the drone capability on Boeing 767 and Boeing 787 aircraft.  With around 250 inspections per year, LOTAMS will be one of the first to benefit from the new wide-body and outdoor inspection capabilities that Donecle is rolling out.
Matthieu Claybrough, CEO at Donecle, says: "We are pleased to be working with LOTAMS, another European MRO that chooses to look at innovation to improve the safety and efficiency of its operations. Furthermore, the partnership will both help us validate our wide-body capabilities and help in the qualification of our solution on Embraer, well advanced alongside our other Dutch partner, RJC."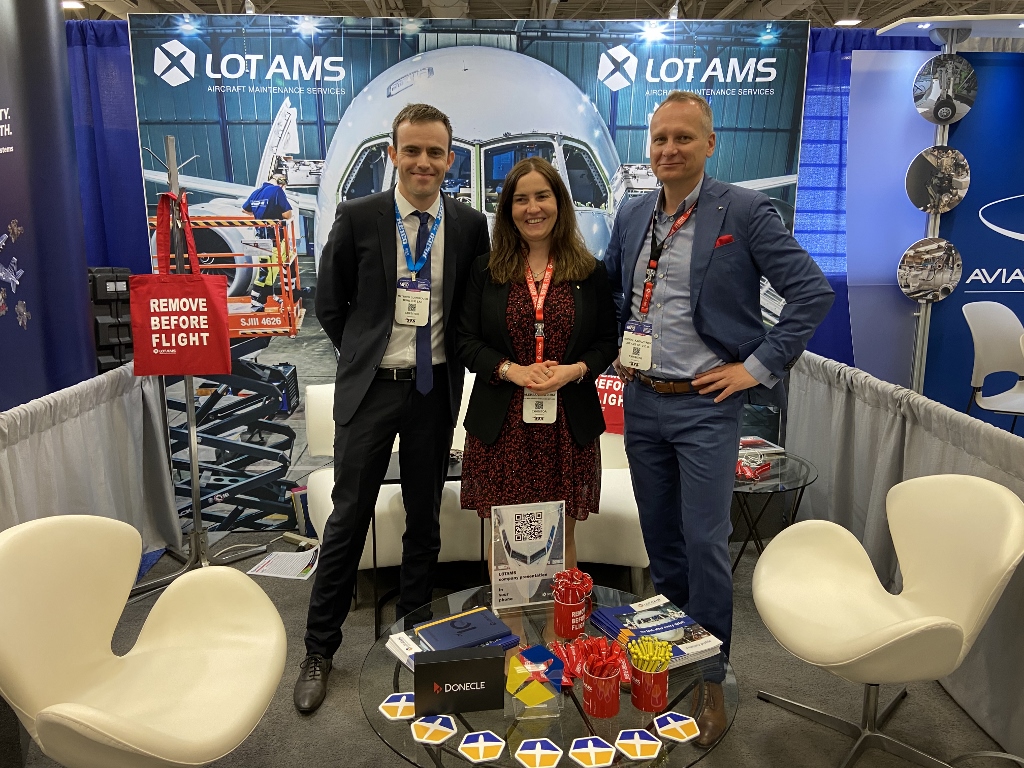 About LOTAMS:
LOTAMS is one of the most dynamically developing MRO -maintenance repair and overhaul- companies in Central and Eastern Europe, based in Poland, providing technical maintenance services for both narrow-body and wide-body aircrafts. The company has been an independent enterprise since 2010 when the technical base was separated from the structure of LOT Polish Airlines. Their several years of independent activity have been supported by almost one hundred years of experience, transmitted from generation to generation by mechanics and engineers.
More about LOTAMS at www.lotams.com
About Donecle:
Donecle offers an automated aircraft inspection solution. Combining a 100% automated drone (no pilot required and no GPS) with advanced image analysis algorithms, the technology enables inspections to be completed up to ten times faster than current methods. Supporting operations such as lightning strike inspections, GVI, regulatory markings and paint quality checks, and dent checks, the solution helps optimize maintenance activities, reducing the inspection time while improving traceability and building digital history over time. Donecle is currently working with airlines, third-party MROs, aircraft OEMs and military operators all over the world.
Follow us on Twitter and Linkedin: @Donecle